Herniated Disk After An Accident – Silver Injury Law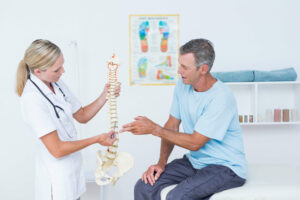 If you are suffering from a herniated disk after an accident, you probably have a lot of questions. And while you are trying to get answers you're trying to manage mounting medical bills, lost time at work, and a major new source of pain in your life. The choices you make now will have a big impact on your future following the injury. Here are the steps that we recommend you take after suffering from a herniated disk after an accident.
What To Do After a Herniated Disk After an Accident
Take Extensive Notes:
If you are injured in an accident that was caused by the negligence or disregard of someone else, you may be entitled to a financial settlement. But for that to happen, you will need to build a solid personal injury case. Having an extensive record of what happened before, during and after the accident is critical. As soon as possible, write down all your recollections, seek out other parties involved, and carefully track everything that happens afterward. Save any medical bills related to your herniated disk after an accident.
Save Evidence:
Just as in any legal case, forensic evidence can reveal a lot. If there is anything related to your herniated disk after an accident that you have managed to save, keep it preserved. Pictures of the site of the accident, the conditions that lead to the accident, and the injuries that you suffered are also helpful. Proving that your herniated disk after an accident was caused by someone who should be held financially responsible takes extensive evidence.
Obtain a Police Report:
If the police were involved in the accident, request a copy of their report. This can reveal important details related to your herniated disk that will be valuable to have in court. Once you have the police report, compare it to your version of events to spot strengths and weaknesses in your case.
Before taking any of these steps, it's advisable to hire an attorney. They can help you build your case and establish your claim for compensation. Don't let a herniated disk after an accident wreck your family's finances. Call Silver and Silver Attorneys at Law at 561-279-3911 for a free initial consultation.