Drivers in Florida already know that our roadways are dangerous. Florida is consistently ranked at the top of studies analyzing accident data, and anyone who has ever driven on our interstates can attest to the fact that people drive unsafely. But which roads and intersections are the most dangerous, and what can you do to keep your family safe? At Silver Injury Law our dedicated auto accident attorneys compiled a list of some of the areas where you should exercise extra caution.
Which Dangerous Roads Run Through Palm Beach County?
In 2017, a Canadian transportation and trucking company called Geotab performed a comprehensive survey of all of the roads in the United States. To determine which roads were the most dangerous, Geotab examined the number of crashes as well as the average daily traffic on every major highway to come up with each road's fatal crash rate.
According to their results, four of the top five most dangerous highways traverse Florida, and two are located in Palm Beach County. Coming in first is U.S. Highway 1, which runs down the entire eastern coast of the state. Over the past decade, U.S. 1 has seen over 1,011 fatal crashes. In fifth place is U.S. 441, which follows the western edge of Palm Beach County. There have been over 417 fatal crashes on that roadway in the past ten years. The other two dangerous roads located in Florida are U.S. 41, which runs through Tampa, and U.S. 27, which runs from Miami to Tallahassee.
While many drivers in South Florida would have ranked I-95 as an especially dangerous road, the interstate came in 66th place nationwide. Ranked more dangerous is U.S. 98, which came in tenth place.
Which Intersections in Palm Beach County are the Most Dangerous?
While major highways are often treacherous, a large portion of all auto accidents happen at intersections. According to the most recent data available, the following intersections in Palm Beach County had the most accidents in 2014:
Okeechobee Blvd. and Military Trail (West Palm Beach): 141 accidents
Southern Blvd. and U.S. 441 (Royal Palm Beach): 120 accidents
S. Military Trail and Forest Hill Blvd. (West Palm Beach): 114 accidents
W. Atlantic Ave. and Congress Ave. (Delray Beach): 107 accidents
Glades Road and U.S. 441 (Boca Raton): 96 accidents
Glades Road and St. Andrew's Blvd. (Boca Raton): 92 accidents
Forest Hill Blvd. and U.S. 441 (Wellington): 90 accidents
Palm Beach County Accident 2017 Up to Date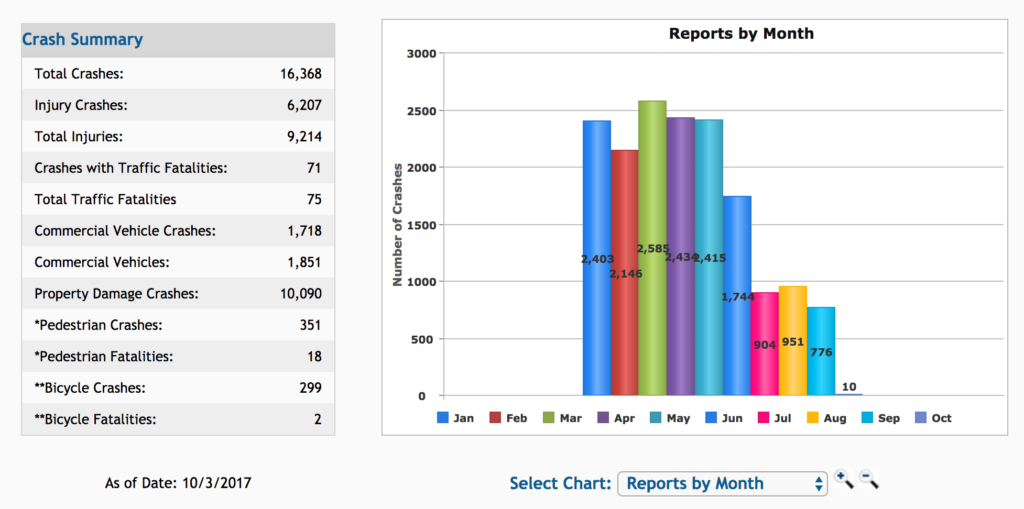 While these intersections might be the most dangerous, car accidents can happen anywhere at any time. Drivers in these areas, however, should be especially cautious.
Get Help After a Car Accident in Palm Beach County
If you or your family member was injured at any of these dangerous intersections and highways, make sure you speak with an experienced auto accident attorney that knows these areas. At Silver Injury Law we are dedicated to helping injured people in Palm Beach County get justice and fair compensation after an injury. To schedule a free consultation, contact our office today by calling 561-279-3911.